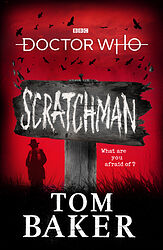 Edition:
UK (hardback)
Released:
January 2019

Publisher:
BBC Books
ISBN:
978-1-78594-390-4
Format:
hardback
Owned:
Buy:
Cover blurb:
"We're not really here for a picnic, are we, Doctor?" asked Sarah.
"No," I agreed. "Something's brought the TARDIS here."
"Something good? Something evil?" She paused, and sighed.
"It's going to be something evil, isn't it?"
In his first-ever Doctor Who novel, Tom Baker's incredible imagination is given free rein. A story so epic it was originally intended for the big screen, Scratchman is a gripping, white-knuckle thriller almost forty years in the making.
The Doctor, Harry and Sarah Jane Smith arrive at a remote Scottish island, when their holiday is cut short by the appearance of strange creatures — hideous scarecrows, who are preying on the local population. The islanders are living in fear, and the Doctor vows to save them all. But it doesn't go to plan — the time travellers have fallen into a trap, and Scratchman is coming for them.
With the fate of the universe hanging in the balance, the Doctor must battle an ancient force from another dimension, one who claims to be the Devil. Scratchman wants to know what the Doctor is most afraid of. And the Doctor's worst nightmares are coming out to play...
TOM BAKER is an actor best known for his role as the Fourth Doctor in the BBC hit series Doctor Who from 1974-1981. After leaving the show, Tom continued to act and provide voiceover work for many popular British TV programmes including Black Adder, Agatha Christie's Marple, Little Britain, and many more. He is the author of an autobiography, Who On Earth Is Tom Baker? and the darkly comic novel, The Boy Who Kicked Pigs.