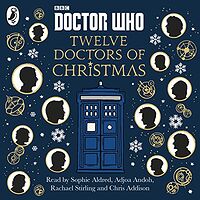 Note: Audio reading of the 2016 book. The readings had previously been released as an audio download in October 2016, but this was their first release on CD.
Cover blurb:
A collection of Christmas adventures, starring twelve incarnations of the Doctor plus many of his friends and enemies.
Read by Sophie Aldred, Adjoa Andoh, Rachael Stirling and Chris Addison, in these stories you'll find timey-wimey mysteries, travels in the TARDIS, monster-chasing excitement and plenty of Christmas magic.
Written by Jacqueline Rayner, Colin Brake, Richard Dungworth, Mike Tucker, Gary Russell and Scott Handcock.