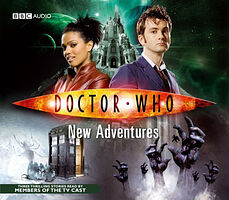 Note: Box set containing previously-unreleased audio readings of three new series novels: Martha in the Mirror, Snowglobe 7 and The Many Hands. All three readings were later re-released as part of the Tenth Doctor Novels: Volume 2 box set.
Cover blurb:
Three stories featuring the Doctor and Martha, as played by David Tennant and Freema Agyeman in the hit series from BBC Televison
The Doctor and Martha face danger and horror in these three thrilling stories, read by Freema Agyeman, Georgia Moffett and David Troughton.

Martha in the Mirror, read by Freema Agyeman, sees the duo arriving at Castle Extremis, which is about to play host to the signing of a peace treaty. But not everyone wants the war to end. Who is the little girl who haunts the castle? Who is the hooded figure that watches from the shadows? And what is the secret of the legendary Mortal Mirror? Written by Justin Richards.
Snowglobe 7, read by Georgia Moffett, is set on Earth in 2099, when global warming is devastating the planet. In a desperate attempt at preservation, the governments of the world have removed vast sections of the Arctic and Antarctic and set them inside huge domes. But a hidden threat has been preserved beneath Snowglobe 7... Written by Mike Tucker.
The Many Hands, read by David Troughton, finds the Doctor and Martha travelling back in time to eighteenth-century Edinburgh. The Nor' Loch is being filled in, officially because it's a stinking cesspool. But why are there so many whispered stories about the loch — stories about the Doctor, and the many hands of Alexander Munro? Written by Dale Smith.
Containing over seven hours of engrossing listening, this is a collection no Doctor Who fan will want to be without.