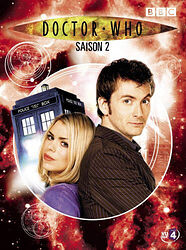 Edition:
France (1st DVD)
Title:
Saison 2
Released:
April 2007

Publisher:
France Télévisions Distribution
Format:
4 x DVD
Owned:
Buy:
Note: Choice of French or English audio, and optional French subtitles. Unlike most other countries' releases, this does not include the 2005 Christmas special The Christmas Invasion.
Cover blurb:
LE RETOUR DE LA SÉRIE DE SCIENCE-FICTION CULTE SO BRITISH !
Doctor Who a l'apparence d'un homme, il est dynamique, courageux, drôle... bien qu'il soit en fait un extraterrestre âge de plus de 750 ans !! Seul rescapé de la destruction de sa planète, il est le dernier Seigneur du temps, capable de voyager dans le passé et le futur. A bord du Tardis, il règle de nombreux problèmes dans l'univers, combat des monstres et surtout, sauve planètes et personnes en danger.
La blonde Terrienne, Rose, vendeuse dans un grand magasin, le suit dans ses missions périlleuses, toujours aussi surprenantes, qui se déroulent hier, aujourd'hui, demain, ici, là-bas, ailleurs... quelques part dans le cosmos...
Une extravagante deuxième saison marquée par l'arrivée d'un nouveau Doctor joué par David TENNANT (Harry Potter et la coupe de feu), toujours secondé de la pétillante Billie PIPER (star de la pop en Angleterre). Encore plus d'aventures, de suspens et d'extraterrestres !
CES 4 DVD COMPRENNENT
LES 13 ÉPISODES CHAPITRÉS