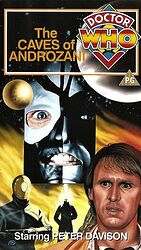 Edition:
UK (VHS)
Released:
January 1992

Publisher:
BBC Video
Format:
1 x VHS PAL
Owned:
Buy:
Note: Yes, the cover blurb really does mis-spell Peri as "Perry". Sharp-witted fans will also realise that it's really the Doctor's fifth regeneration (not "sixth").
Cover blurb:
"Curiosity's always been my downfall".
Captured for arms-running on the mining planet of Androzani Minor, the Doctor and Perry [sic] are under sentence of death.
Then a mysterious masked instruder comes to their aid. But is Sharaz Jek, master android creator, really their saviour?
The rulers of the planet are certainly desperate for his head. But then, he does control Androzani's supply of spectrox and it's a substance men are prepared to die for...
Originally transmitted 8 - 16 March 1984, this four part adventure marks the end of the Peter Davison era for Doctor Who and the timelord's sixth [sic] regeneration.