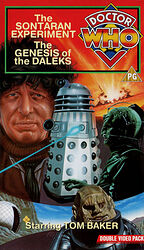 Edition:
UK (VHS)
Released:
October 1991

Publisher:
BBC Video
Format:
2 x VHS PAL
Owned:
Buy:
Cover blurb:
THE SONTARAN EXPERIMENT
Earth 10,000 years hence and life has been extinguished — or has it?
The Doctor, Sarah Jane and Harry find themselves in the Piccadilly Circus of the future where the mysterious alien in the rocks rules. Then the Doctor bumps into an old enemy... and finds himself part of a lethal experiment...
This two part adventure was originally transmitted 22 February 1975 - 1 March 1975.
THE GENESIS OF THE DALEKS
Back on the dreaded Skaro again, the Doctor's on a mission from the Timelords themselves... simple enough... All he has to do is destroy the daleks [sic] before they evolve and face their evil creator...
This six part adventure heralding the first appearance of Davros was originally transmitted 8th March - 12th April 1975.