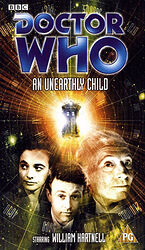 Edition:
UK (remastered VHS)
Released:
September 2000

Publisher:
BBC Video
Format:
1 x VHS PAL
Owned:
Buy:
Cover blurb:
London 1963. Teachers Ian Chesterton and Barbara Wright are intrigued by mysterious pupil Susan Foreman. Following her home one night after school, they discover she lives in a strange junkyard. And in a corner of this junkyard is a police box...
Their investigations are disturbed by a mysterious old man who emerges out of the London fog and moves toward the police box. They learn he is Susan's grandfather. He is the Doctor. But Doctor who?
Forcing their way past the Doctor, the two teachers enter the police box, where they suspect Susan is being held against her will. They soon discover that this is no ordinary police box, what they find inside will change their lives forever. However, now that they know its secrets, can the Doctor afford to let them leave?
Carrying the Doctor, Susan and its reluctant new passengers, the TARDIS begins its journey. Travelling back in time, the crew encounter an ancient tribe who have lost the secret of fire. Their experiences in this prehistorical landscape introduce us to the characters who made television history, starring in the first story of the longest running science fiction programme ever.
This was the first story in the long series of adventures for Doctor Who, the most famous time-traveller of them all, and was broadcast on BBC1 between 23 November - 14 December 1963.