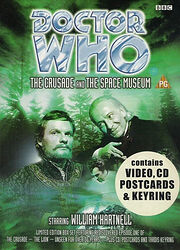 Edition:
UK (VHS)
Released:
July 1999

Publisher:
BBC Video
Format:
1 x VHS PAL, 1 x CD
Owned:
Buy:
Cover blurb:
Both rediscovered episodes of The Crusade are now available for the first time together on video. Including specially recorded linking narration starring William Russell (Ian Chesterton in the original series). Also included is a CD of the soundtrack to the missing episodes.
The Crusade — Episodes 1 and 3:
It's 12th Century Palestine and King Richard the Lionheart is embroiled in a Holy War against the Saracen ruler, Saladin. After Barbara is abducted in a Saracen ambush, the Doctor, Ian and Vicki make their way to the King's palace. At first, the King will not help with her rescue, but he relents and lets Ian attempt it, equipping him for the task with a knighthood. Meanwhile, the King's secret plans to make peace with Saladin are discovered and all hell breaks loose. The Earl of Leicester suspects the Doctor's influence in the King's new-found desire for peace. It is time the Doctor left...
Originally transmitted 27th March and 10th April 1965.
The Space Museum:
The TARDIS has jumped a time track, landing on the planet Xeros where the Doctor and his companions discover the unsettling sight of their own future selves — displayed as exhibits in the Morok museum. The exhibits testify to the galactic conquests of the Morok invaders who now rule the planet. When time shifts back to normal, the Doctor and his companions embark on a campaign to avert their fate, with Vicki helping the native Xerons to obtain arms with which to launch a revolution against the Moroks. But will this be enough to secure the time travllers' existence?
Originally transmitted 24th April - 15th May 1965.