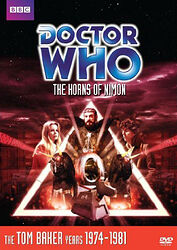 Note: Only released separately in the US. In the UK & Australia, this story was released as part of the Myths and Legends box set instead.
Cover blurb:
When the TARDIS collides with a spaceship en route to the planet Skonnos, the Doctor, Romana and K-9 soon uncover the horrible truth about its cargo. The ship is carrying the young sacrifices for a powerful, horned creature called the Nimon.
But why is the creature so desperate for the delivery, and what other dangers await the time travelers? All will be revealed at the center of the labyrinthine Power Complex on Skonnos.
DVD EXTRAS INCLUDE:
Audio Commentary by actors Lalla Ward (Romana), Janet Ellis (Teka), and Graham Crowden (Soldeed), and writer Anthony Read
Who Peter — Partners in Time History of Blue Peter's relationship with Doctor Who, presented by Gethin Jones (30 mins)
Read the Writer Anthony Read interview (6 mins)
Peter Howell Music Demos 1980 Radiophonic Workshop demo over the beginning of Part Two (3 mins)
Photo Gallery (8 mins)
Production Note Option
PDF materials (DVD-Rom — PC/Mac): Radio Times listings, studio floor plans
Digitally remastered picture and sound quality
Originally transmitted December 22, 1979 - January 12, 1980