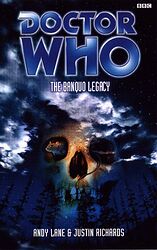 Cover blurb:
Banquo Manor — scene of a gruesome murder a hundred years ago. Now history is about to repeat itself.
1898 — the age of advancement, of electricity, of technology. Scientist Richard Harries is preparing to push the boundaries of science still further, into a new area: the science of the mind.
Pieced together at last from the accounts of solicitor John Hopkinson and Inspector Ian Stratford of Scotland Yard, the full story of Banquo Manor can now be told.
Or can it? Even Hopkinson and Stratford don't know the truth about the mysterious Doctor Friedlander and his associate Herr Kreiner — noted forensic scientists from Germany — come to witness the experiment.
And for the Doctor, time is literally running out. He knows that Compassion is dying. He's aware that he has lost his own ability to regenerate. He's worried by Fitz's fake German accent. He's desperate to uncover the Time Lord agent who has him trapped.
And worst of all... he's about to be murdered.
This is another in the series of original adventures for the Eighth Doctor.