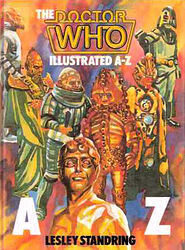 Edition:
UK (hardback)
Released:
September 1985

Publisher:
WH Allen
ISBN:
0-491-03484-9
Format:
hardback
Owned:
Buy:
Cover blurb:
Artist Lesley Standring brings together for the first time in pictorial form some of the most fearsome creatures the Doctor has ever encountered in all of his six lives.
In a series of beautifully executed illustrations, many in full colour, she takes us on a journey through time and space, reintroducing us to such memorable monsters as the Daleks and the Cybermen, and to old friends like Romana and Jamie.
Packed with little known facts and figures, The Doctor Who Illustrated A-Z forms the definitive illustrated handbook to all the Doctor's travels. No Doctor Who fan can afford to be without it.