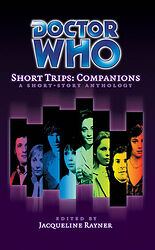 Cover blurb:
SEVENTEEN BRAND NEW ADVENTURES IN TIME AND SPACE!
Adventures in time and space are no fun if there's no one to share them. The Doctor has taken along many people on his travels — humans, aliens and robots. Did he really care for any of them? What in their previous life fitted them for the role of companion — and how did they cope after they left the TARDIS?
These seventeen stories look at the Doctor's trusty companions, before, during and after their travels with the eccentric Time Lord. Discover the truth about Romana's regeneration, find out what happened when Zoe encountered the Doctor again, and learn which of his companions the Doctor cared for the most...
Featuring stories by Paul Magrs, Mark Michalowski, Steve Lyons, Gary Russell, Tara Samms and many more!
Contents:
The Tip of the Mind by Peter Anghelides
The Splintered Gate by Justin Richards
The Man From DOCTO(R) by Andrew Collins
Apocrypha Bipedium by Ian Potter
Kept Safe and Sound by Paul Magrs
The Lying Old Witch in the Wardrobe by Mark Michalowski
Hearts of Stone by Steve Lyons
Distance by Tara Samms
Qualia by Stephen Fewell
Curriculum Vitae by Simon Guerrier
Notre Dame du Temps by Nick Clark
The Little Drummer Boy by Eddie Robson
Hidden Talent by Andrew Spokes
The Canvey Angels by David Bailey
Balloon Debate by Simon A. Forward
A Long Night by Alison Lawson