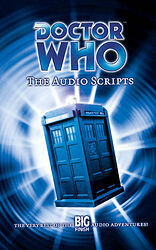 Cover blurb:
Since 1999, Big Finish Productions have produced regular, fully-licensed ongoing audio adventures for the Doctor and his companions on CD. Each four-part story stars members of the original Doctor Who cast in brand-new adventures through time and space.
Presented in this book are the original scripts for four of Big Finish's most popular plays, one per Doctor.
From the new run of Fifth Doctor adventures starring Peter Davison comes Loups-Garoux, penned by Marc Platt who wrote the very last Doctor Who story made by BBC Television in 1989.
Colin Baker returned as the Sixth Doctor in The Holy Terror, by award-winning playwright Robert Shearman.
Representing the Seventh Doctor, played once again by Sylvester McCoy, is The Fires of Vulcan by acclaimed novelist Steve Lyons.
Rounding this collection off is Neverland, the most recent Eighth Doctor audio adventure featuring Paul McGann and authored by Doctor Who comic strip writer and editor Alan Barnes.
The scripts reprinted in this volume include dialogue and sequences missing from the finished releases. A must for every fan of the Doctor's timeless adventures!
Four of the most popular scripts from Big Finish's acclaimed range of original Doctor Who audio dramas, including:
Exclusive introductions from the authors
Full rehearsal scripts, including 'lost' dialogue and scenes
Notes from the directors
An early version of The Fires of Vulcan Part One, featuring the character of Ace rather than Mel
The full-length, uncut, four-part version of the Eighth Doctor adventure Neverland