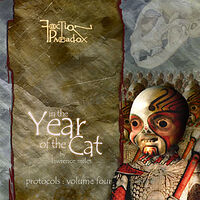 Description: Original audio drama featuring Doctor Who literary spinoff Faction Paradox. The script for this drama is available as part of Faction Paradox: Protocols - The Scripts Vol. 2.
Cover blurb:
PRIMER FOR THE SPIRAL POLITIC (POST-WAR EDITION)
4: THE MUNIFICENT ARMY OF PEKING
Era: Human historical (later period)
Technology: Military (self-contained), non-time-active
By the end of the fifth millennium AD, the homunculi created by the human species — clones, cross-breeds, fighting-machines and artificial intelligences of all descriptions — outnumbered humanity by more than thirteen to one: but even so, there were no creations like those of Peking.
Heading a thousand-strong army of individually-crafted automata, the twelve commanders were self-aware embodiments of the oriental zodiac, forged to a strict astrological design and said to incorporate history itself in their operating program. After the fall of Peking, however, most were never accounted for...