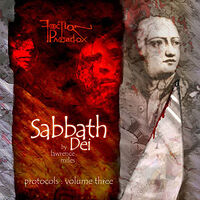 Description: Original audio drama featuring Doctor Who literary spinoff Faction Paradox. The script for this drama is available as part of Faction Paradox: Protocols - The Scripts Vol. 2.
Cover blurb:
PRIMER FOR THE SPIRAL POLITIC (POST-WAR EDITION)
3: SABBATH DEI (1740-1782 AD?)
Era: Human historical (pre-industrial period)
Technology: Acquired, ritual time-awareness.
Right from its creation, the secret intelligence service of Great Britain was touched by a streak of ritual: its initiations were usually occult, its codes based on astrological or alchemical ciphers. When Faction Paradox first entered Earth history in the 1700s, the Service took an immediate interest in the new arrivals' own ritual practices, and in the inevitable feud between British and Faction agents no single figure was as important as Sabbath. He's now remembered as one of the few individuals to bring his own agenda to the War...