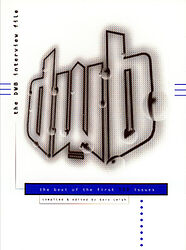 Edition:
UK (paperback)
Released:
March 1994

Publisher:
Dreamwatch
ISBN:
0-9522307-1-2
Format:
paperback
Owned:
Buy:
Note: Presumably the cover blurb meant to describe Blake's 7 as "enduringly popular" instead of "endearingly popular"...?
Cover blurb:
During its first ten years of publication, the award-winning DreamWatch Bulletin published some of the most thorough and, at times, eye-opening interviews with a host of British telefantasy names from both in front of and behind the camera. This follow-up to the critically acclaimed The DWB Compendium contains the finest of those interviews under one cover.
Entertainingly re-edited and updated — many by the interviewees themselves — The DWB Interview File will provide hours of enjoyable and informative reading, beautifully illustrated with many previously unpublished photographs and professional artwork.
Includes: the complete story of Doctor Who, chronologically told by many of its contributors over the years, from its creator Sydney Newman through to the most recent screen Doctor, Sylvester McCoy; the lead actors from Blake's 7 who discuss the sometimes tense atmosphere behind the scenes of this endearingly [sic] popular series; Gerald Harper on the ill-fated Sixties series Adam Adamant Lives! plus Richard O'Brien on 21 years of Rocky Horror...
Also available in this volume: The DWB Compendium
A fully revised and updated collection of the very best reference material from the first 100 issues of DWB, including The Power of the Daleks Photonovel, Return of the Cybermen, the definitive guide to Doctor Who in the archives, the complete Blakes 7 merchandise guide, and much more...
A veritable pot-pourri of information... a fascinating read"
Marvel's DWM