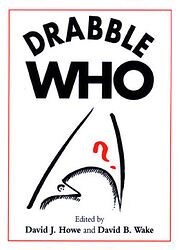 By:
David J. Howe & David B. Wake (ed.)
Rating:
7.3 (6 votes) Vote here
Review:
None yet Add a review
Released:
September 1993

Publisher:
Beccon Publications
ISBN:
1-870824-21-0
Format:
hardback
Owned:
Buy:

| | | |
| --- | --- | --- |
| | | (Not currently available) |

| | | |
| --- | --- | --- |
| | | (Not currently available) |

| | | |
| --- | --- | --- |
| | | (Not currently available) |
Note: Numbered limited edition of 1,000 copies. A collection of one hundred "drabbles" (100-word short stories or poems) themed around the subject of Doctor Who, in aid of the RNIB Talking Book Library.
As mentioned in the cover blurb, this was the third (and last) collection of drabbles produced by Beccon Publications — the first two (non-Who related, so not listed in this site) were the sci-fi themed The Drabble Project in 1988, and Drabble II: Double Century in 1990. More details on the publisher's website.
Cover blurb:
FEATURING CONTRIBUTIONS FROM:
Dan Abnett, Sophie Aldred, Brian Ameringen, Peter Anghelides, Geoffrey Arthur, Colin Baker, David Banks, Nigel Bannerman, Christopher Barry, Stephen Baxter, Michael Bell, J. Jeremy Bentham, Ness Bishop, Ian Stuart Black, Chris Boucher, Steve Bowkett, Graham S. Brand, Keith Brooke, David Burke, Tim Chapman, Kevin Chitty, Tony Cooke, Nathan Cooke, Paul Cornell, Fiona Cumming, Richard W. Dance, Peter Darvill-Evans, Andrew W. Donkin, Julian Eales, Stan Eling, George Evans, Michael Ferguson, Ian M. Fraser, John Freeman, Stephen Gallagher, Steve Graeme, David Green, Mervyn Haisman, Elizabeth Halliday, Paul Harrington, Alun Harris, Michael Haslett, David J. Howe, Robert Howe, David Inwood, Simon J. Irving, Alison Jacobs, Louise Jameson, Steven Jenkins, Simon Christopher Jones, Andrew Lane, Glenn Langford, Barry Letts, Peter Ling, David Martin, Chaz Mason, Becky Maude, Tim Maude, Graham McKinnon, Adrian Middleton, Brian Milligan, M. R. Morgan, Steve Morgan, Mark Morris, Jim Mortimore, Amanda Murray, John Nathan-Turner, Kate Orman, John Peel, Victor Pemberton, Jon Pertwee, Martin Pollard, Eric Pringle, Justin Richards, John M. Rimmer, Tony Roach, Nigel Robinson, Nicholas Royle, Gary Russell, Robert Sloman, Chris Sparrow, Mark Stammers, Michael E. P. Stevens, Keith Topping, David Tulley, Jan Vincent-Rudzki, David B. Wake, Stephen James Walker, John Wiles and Stephen Wyatt.
The inside cover flaps read as follows:
CONTENTS
This book is the 3rd collection of Drabbles to be produced and, in common with the first two volumes, contains one hundred stories.
LIMITATION
Each story has exactly one hundred words, with up to fifteen more for titles or subtitles.
PUBLICATION
The publication of this book coincides with the 30th anniversary of Dr Who, which was first shown on British television on 23rd Nov 1963.
ROYALTIES
All the authors in this book, both amateur and professional, together with the editors and publisher have waived their rights to any share of the profits. All profits will be donated to the RNIB Talking Book Fund.
David J. Howe is co-author of two series of ongoing factual books on Doctor Who. He provides a monthly book review column for Starburst magazine and is currently editor of the British Fantasy Society Newsletter. He is married, lives in Surrey and cannot see the attraction of carnivorous plants.
David B. Wake is the same age as Doctor Who and, although his surname isn't a question, he has the same initials. He produced Birmingham University SF Society's magazine "The Six Chairbeings". He was the sixth Chairbeing. He lives in Bournville where he is converting his garden into a golf course.