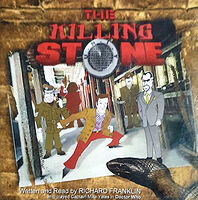 Note: Abridged audio reading by Richard Franklin (Captain Yates) of his at-the-time unpublished novel, which was originally pitched to BBC Books as a Past Doctor novel, but was rejected. It finally appeared in print over 10 years later as Operation: H.A.T.E (although in a substantially reworked form that removes all mention of UNIT, the Doctor and other trappings of the programme). This CD also contains interviews about Franklin's time on Doctor Who.
Cover blurb:
Mike Yates has left UNIT and tries to acclimatise to life in the slow lane. But, as he soon finds out, your past is only a second behind you...
In a Meditation Centre deep in the Chiltern Hills, Mike Yates is in a contemplative mood. His years of faithful service to the United Nations Intelligence Taskforce have come to an abrupt end, and he is having to take his leave of the people he has come to think of as family.
When the Brigadier suggests that his former Captain take a holiday in Morocco, Mike finds himself embroiled in an exciting battle with an old enemy that could mean the end for UNIT, the Doctor and the world...