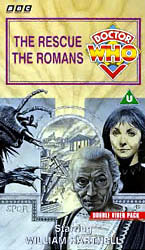 Edition:
UK (VHS)
Released:
September 1994

Publisher:
BBC Video
Format:
2 x VHS PAL
Owned:
Buy:
Cover blurb:
THE RESCUE (Originally transmitted in 2 episodes 2 - 9 January 1965)
Having left Susan on Earth, the Doctor, Ian and Barbara land the TARDIS on the planet Dido in the year 2493. There they discover two humans, Bennett and Vicki, trapped in their spaceship, the only crew to survive death at the hands of the hostile Didonians.
But the Doctor is baffled: the Didonians are a peaceful nation. What has happened to change them? Why have they murdered the crew of the spaceship? Why, apart from the mysterious Koquillion, are they strangely absent?
The Doctor must find the answers — and quickly. For a rescue ship is on its way from Earth intent on revenge and time is running out for the planet...
THE ROMANS (Originally transmitted in 4 episodes 16 January - 6 February 1965)
It is Italy 64AD and the Doctor's intent on a holiday. However, the atmosphere turns sour when he leaves for Rome with Vicki only to be mistaken for a murdered musician — Maximus Petullian. For Maximus is an enemy of Nero and the terrible fate that awaited him in Rome now awaits the Doctor. Meanwhile, Ian and Barbara have been abducted and sold as slaves. Are they doomed to spend the rest of their lives trapped in 64AD?
Events reach a climax when the time travellers are caught in the Great Fire of Rome: an inferno which will either provide the cover necessary for their escape or which will, quite literally, be the death of them...