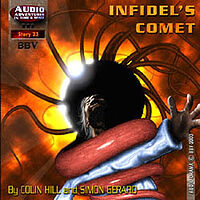 Note: The cast and characters have practically no direct link with Doctor Who — bar a brief cameo by a Sontaran. This audio was released along with a separate CD featuring Mike Neilson's background music for other BBV audio dramas (as you can see from the back cover blurb below). The plot summary for Infidel's Comet is as follows:
The nightmare of generations has finally come true: a huge comet is on collision course with Earth, a holocaust is imminent. But...
From the Comet come a million copper tentacles that snatch up gorgeous, feral news reporter Kate Spencer and intergalactic bank robbers Jimmy and Henry. Escaping from the most improbable prison-cell in the universe, these three must destroy the brain of the Comet before the day is out, or Earth and several thousand alien species will die.
But the Pure Crusader has his Army of Drones, Kate Spencer has a secret, and it might just be Jimmy and Henry's last stand, in humanoid form at least.
Cover blurb:
Music on CD by Mike Neilson
An exlusive [sic] 60 minute feature in which Mike Neilson talks about his music...
with music from: