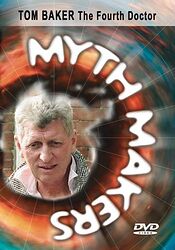 Edition:
UK (DVD)
Released:
February 2015

Publisher:
Reeltime Pictures
Format:
1 x DVD
Owned:
Buy:
Note: For over a decade until this release in 2015, this was the only Myth Makers VHS interview not to have been re-released on DVD.
Cover blurb:
"The Doctor will never change. He may grow old and fade away, but he will always be the same ... so the fun is — how do you colour that?"
Ask DOCTOR WHO fans who their favourite Doctor is and the majority are likely to name TOM BAKER's portrayal above all others.
Much of TOM's popularity has been fuelled by his reticence to appear in public to discuss his time in the programme. Little is actually known about the man or his memories of being the longest running Time Lord troubleshooter!
At last this has changed. In an exclusive interview with NICHOLAS BRIGGS, at the location used for THE ANDROID INVASION, TOM discusses frankly his life and career.

SPECIAL FEATURES Biography and Behind-The-Scenes footage