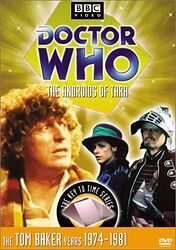 Edition:
US (standard DVD)
Released:
October 2002

Publisher:
BBC Video
Format:
1 x DVD
Owned:
Buy:
Cover blurb:
Getting the fourth segment of the Key to Time is the easiest part of the trip to the planet Tara, whose idyllic atmosphere lulls the Doctor into a mood to go fishing and leave the segment-tracing to Romana. She locates it after a short walk on a beautiful day, but her luck changes when she meets the courtly Count Grendel.
Contrary to appearances, Tara is a hotbed of political intrigue, and beneath its Old World veneer lies a surprising advanced level of technological development that includes lifelike androids and electric swords. Count Grendel mistakes Romana for an android double of Princess Strella, and carries her away for future use in his plot to wrench the crown from its rightful claimant, Prince Reynart.
Meanwhile, the Doctor arouses suspicion when Prince Reynart's men discover him fishing on the prince's estate. Before he and Romana can leave Tara, the Doctor will be unwillingly thrust in the roles of android repair-man, kingmaker and ultimately, swordsman — when he finds himself locking swords with Grendel, the finest swordsman of all Tara.
DVD EXTRAS INCLUDE:
Commentary by actors Tom Baker and Mary Tamm and director Michael Hayes
Pop-Up Production Notes
Photo Gallery
Who's Who