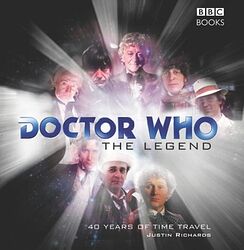 Edition:
UK (1st hardback)
Title:
The Legend: 40 Years of Time Travel
Released:
October 2003

Publisher:
BBC Books
ISBN:
0-563-48602-3
Format:
hardback
Owned:
Buy:
Cover blurb:
At about tea time on Saturday 23 November 1963, a mysterious time-traveller known only as 'The Doctor' appeared on the nation's screens, and a legend was born.
For millions of us, Doctor Who was an integral part of growing up. In the 60s and early 70s, before the days of videos and multiple-television households, the whole family would sit down to watch the Doctor in action. With a huge cult following, Doctor Who fuelled the imaginations of generations of British children, and went on to become the longest-running science-fiction television show ever made, broadcasting over a staggering 26 seasons and 159 stories.
Continually battling against the Daleks, the Cybermen, and a host of other space-bound baddies, the Doctor has been through a very impressive eight regenerations. From William Hartnell's cantankerous old professor and the humour of Patrick Troughton's second Doctor, through the 'Harley Street' elegance of Jon Pertwee and the demystification of Tom Baker, to Paul McGann's Byronic hero, each Doctor has continued the fight against the inter-galactic forces of evil.
Now, as the Doctor turns forty, we look back at his career — on television, and in books, films, audio series and comic strips. Covering each and every one of the Doctor's televised adventures, this book explains all things Who — the worlds visited by the TARDIS, the people and creatures encountered, the monsters fought and the history made.
Meticulously researched and stunningly illustrated with hundreds of images from the BBC archive and a range of never-before-seen pictures from a host of private collections, this book draws on Doctor Who expertise from across time and space, bringing together information and visuals that even the Time Lords themselves would be proud to possess.
Curl up on — or behind — the sofa, and let this book transport you back in time forty years. To the birth of a legend.
Right from the start Justin Richards was fascinated by Doctor Who — despite being only two years old when the programme started — and the time he was seven he had visited the BBC's Lime Grove studios and met the Doctor (then played by Patrick Troughton).
Justin's fascination has continued unabated, and he is now creative consultant to BBC Worldwide's record-breaking range of original Doctor Who novels.