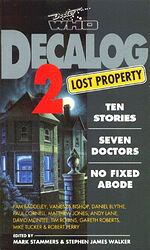 Cover blurb:
Ten stories — Seven Doctors — No fixed abode
Imaginatively entitled Decalog 2, this is the second collection of Doctor Who short fiction. And this time the theme is the Doctor's home — inasmuch as a peripatetic Time Lord can be said to have a home.
As before, the editors have gathered a galaxy of star writers to illuminate the theme. Many of the contributors will be well known to readers of the New Adventures and the Missing Adventures series of novels: Daniel Blythe, Paul Cornell, Andy Lane, David McIntee and Gareth Robertrs are prolific Doctor Who authors. And as before this volume also includes contributions from new writers.
In these stories, among many other unexpected occurrences, the Doctor meets a pretender to the English throne, Nyssa meets a ghost, Zoe gets lost in time, Brigadier Lethbridge-Stewart is dismissed from UNIT, and K-9 is in electrifying form. And the Kandyman is on Tara in a verse play in iambic pentameters.
Contents:
Vortex of Fear by Gareth Roberts
Crimson Dawn by Tim Robbins
Where the Heart Is by Andy Lane
The Trials of Tara by Paul Cornell
Housewarming by David A. McIntee
The Nine Day Queen by Matthew Jones
Lonely Days by Daniel Blythe
People of the Trees by Pam Baddeley
Timeshare by Vanessa Bishop
Question Mark Pyjamas by Mike Tucker and Robert Perry