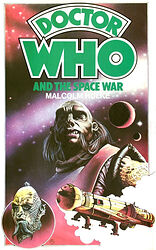 Edition:
UK (1st hardback)
Released:
September 1976

Publisher:
Allan Wingate
ISBN:
0-85523-077-0
Format:
hardback
Owned:
Buy:

| | | |
| --- | --- | --- |
| | | (Not currently available) |

| | | |
| --- | --- | --- |
| | | (Unable to fetch price) |

| | | |
| --- | --- | --- |
| | | (Unable to fetch price) |
Cover blurb:
Also available in the 'Doctor Who' series
DOCTOR WHO AND THE GENESIS OF THE DALEKS
Terrance Dicks
At the command of the Time Lords, the Doctor travels back to the time of the birth of the Daleks, in an attempt to totally destroy this terrible menace of the future. But even the Doctor cannot always win...
DOCTOR WHO AND THE WEB OF FEAR
Terrance Dicks
The Yeti are back and roaming dangerously at large in the London Underground. Above ground a deadly mist has spread, killing any who linger in it. The Doctor arrives to find the city gripped tight in a Web of Fear...
DOCTOR WHO AND THE ICE WARRIORS
Brian Hayles
The world is caught in the grip of a second Ice Age when an ancient Ice Warrior is discovered, perfectly preserved in the ice for centuries. Alarm spreads as it turns out to be an alien from Mars, and ruthlessly hostile.
The inner dustjacket flaps read as follows:
'Doctor' screamed Jo. 'Look at that thing. It's coming straight at us!' A small, black spaceship, about a mile away, was approaching rapidly. It had no lights, no markings. But some instinct told Jo that the tiny craft meant danger.
The year is 2540, and two powers loom large in the Galaxy — Earth and Draconia. After years of peace, their spaceships are now being mysteriously attacked and cargoes rifled. Each suspects the other and full-scale war seems unavoidable. The Doctor, accused of being a Draconian spy, is thrown into prison. And only when the Master appears on the scene do things really begin to move...
Malcolm Hulke has written for the 'Doctor Who' television series since 1965. As well as six 'Doctor Who' books, he has written several adult novels based on the television serial 'Crossroads', and has recently completed Cassell's Parliamentary Dictionary. a new analytical guide.
The author lectures frequently at schools and professional gatherings on the subject of writing. He enjoys travelling abroad as a relaxation from writing, when time allows it.