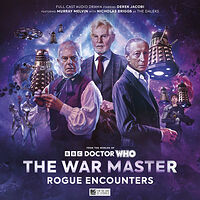 Cover blurb:
Throughout his many lives, the Master has visited myriad places and planets. Some he has spared, others he has destroyed... but all have felt his presence, however fleeting.
In the Time War, he helps a soldier save their world from Dalek assault...
On Earth, he helps a young woman discover the truth about her boyfriend's abduction...
At the Sublime Porte, he helps himself to a source of incredible power...
And as the universe itself comes to an end, a lonely old man tries to help any way he can. But the Master is always waiting.
Runtime by Tim Foley
Manhunt by Rochana Patel
The Sublime Porte by James Goss
Alone by Scott Handcock