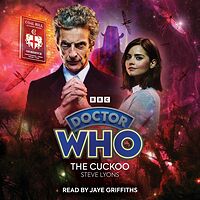 Cover blurb:
Jaye Griffiths reads this original adventure for the Twelfth Doctor and Clara, as played on TV by Peter Capaldi and Jenna Coleman.
For Clara Oswald, life has fallen into a routine. By day she teaches the pupils at Coal Hill School, and by night - and at weekends - she travels in Time and Space with the Doctor.
Clara's having the time of her life, enjoying all the thrill and laughter of being with the Doctor - until, one day, there's somebody else.
To Clara's immense shock, the Doctor has acquired a new companion - and Arix is just as at home in the TARDIS as she has been. Suddenly, Clara's world has tilted on its axis.
As the two companions size each other up, the Doctor is caught between them. And when they all wind up in an alien swamp, it's time for a reckoning of grievances, grudges - and bravery.
Jaye Griffiths, who played Jac in the Doctor Who TV series, reads Steve Lyons's compelling and moving character piece.