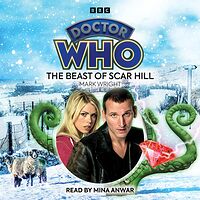 Cover blurb:
Mina Anwar reads an exciting original adventure for the Ninth Doctor and Rose, as played on TV by Christopher Eccleston and Billie Piper.
High on the summit of a bleak Yorkshire moor, the Scar Hill Hotel is used to bad weather. Yet, on a dark afternoon in January, the ferocious snowstorm that engulfs the hotel surprises even its managers, Mike and Jess.
Also caught off guard are the handful of paying guests, all now stranded until rescue teams can get through. When Mike doesn't return from a recce, and two new arrivals introduce themselves as the Doctor and Rose, a night of terror begins.
Something is out there in the snow, hunting. Old Wiggins believes it's the fabled Beast of Scar Hill, the same creature that's done for his sheep. The Doctor's keeping an open mind, as he and Rose fight a losing battle to keep everyone safe.
Someone knows the truth behind the attacks, and the secret that lies out on the moor. But who?
Mina Anwar, who has had TV roles in Doctor Who and The Sarah Jane Adventures, reads Mark Wright's tense and atmospheric thriller.