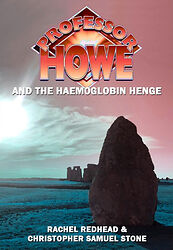 Cover blurb:
A horror too much to Beira!
In Little Stoat strange forces are awaking. A ragtag bag of cultists worship an ancient Celtic Goddess and their dabblings in black magic are having extraordinary results — people are getting stoned.
When PROFESSOR HOWE arrives, she teams up with noted archaeologist, old relic and semi-proficient card sharp — Dr Jen Rummie. Together they investigate the first of many corpses chalked up while the locals start to lose their marbles.
Meanwhile, amateur detective and elderly spinster Miss Margery Westmacott is quartz in the middle of a battle of wits with a gneiss Detective and an evil schist.
Who is the leader of the cult that leaves people out in the coaled? And does the village gossip Vera really have the gift of the gabbro? And can anyone be chert-ain that the Professor really knows what she is doing and knows how to keep a pumice?