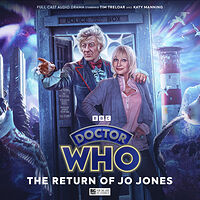 Cover blurb:
Jo Jones (nee Grant) is reunited with her Doctor at a very important point in her life, as they embark on three new adventures.
On the Isle of Wight, the natural order of things is under threat. Meanwhile, on the planet Viltris, the robots only want to keep you safe — at all costs!
Then, on the planet Mercator, something ancient is stirring in the depths...

SUPERNATURE BY MATT FITTON
THE CONSERVITORS BY FELICIA BARKER
THE IRON SHORE BY LIZZIE HOPLEY