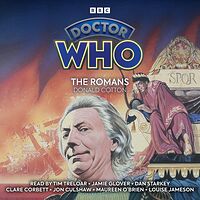 Description: Audio reading of Donald Cotton's 1987 novelisation.
Cover blurb:
A multi-voice retelling of historical events featuring the First Doctor, Ian, Barbara and Vicki
"This range of classic Target audiobooks continues to go from strength to strength..."
Doctor Who Magazine
The TARDIS crewmembers have taken a break from their adventures and are enjoying a well-deserved rest in a luxury villa. But, in the gory grandeur that is Imperial Rome, things don't stay quiet for long.
If the time travellers can save themselves from being sold as slaves, assassinated by classical hit-men, poisoned by the evil Locusta, thrown to the lions, maimed in the arena and drowned in a shipwreck, they still have to face the diabolical might of the mad Emperor Nero.
As if that wasn't enough, they also discover that, although Rome wasn't built in a day, it burnt down in considerably less time...
Tim Treloar, Jamie Glover, Dan Starkey, Clare Corbett, Jon Culshaw, Maureen O'Brien and Louise Jameson are the performers of Donald Cotton's epistolary novelisation, first published by Target Books in 1987.