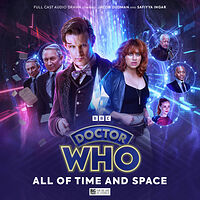 Cover blurb:
There's a story told throughout the universe. From the dawn of history to its dying days, you'll find someone telling it. The story of the traveller in the blue box. The story of the Doctor.
No one knows the power of stories more than the Doctor. He's been in so many. But for Valarie, this is all new. She's about to learn how a story can save a life, forge a civilisation or even rewrite reality itself.
The second box set in an unexplored era in the Eleventh Doctor's life.

ALL OF TIME AND SPACE BY ELLERY QUEST
THE YEARN BY ANGUS DUNICAN
CURIOSITY SHOP BY JAMES GOSS