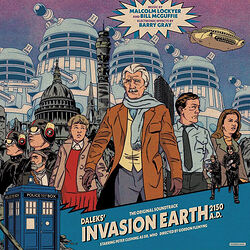 Description: Collector's set containing the music soundtrack to the 1966 Peter Cushing movie Daleks: Invasion Earth 2150 A.D. packaged with the movie itself on 1 Ultra HD disc and 1 Blu-ray disc, plus posters and artcards — very similar in fact to the 2022 collector's edition, although the artcards appear to be different and the other extras (mini-book and collector's coin) are not included.
Fans who bought that set a few short months ago must be wondering why they're being "forced" to buy the movie again and can't just buy the vinyl by itself. The full soundtrack has never had a standalone release by itself but a selection of tracks was released on both CD & vinyl as a 2-in-1 release along with its predecessor's soundtrack.
Cover blurb:
No cover information available yet.
Help wanted! Do you own this item? Please help make this site more complete by emailing me details of the back cover blurb. Thanks!