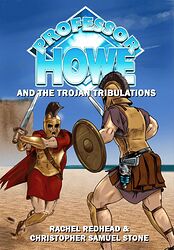 Cover blurb:
So good, you'll laugh till you're hoarse!
Ten years into the Trojan War and events are locked in stalemate. As both sides wrestle for the upper hand, history appears to have drifted off-course.
PROFESSOR HOWE has also drifted off course and dropped in. The Greeks believe her to be a Goddess certain to bring them victory — she just hopes to be Hera today and gone tomorrow.
Will enlisting the Professor be the Greeks' Achilles' heel? Will Homer's attempts at a poem prove an epic fail? And what can Greg do with a couple of yoghurt pots?