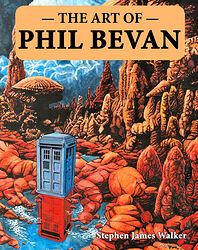 Description: Book compiling the art of Phil Bevan, illustrator whose work graced many Doctor Who fanzines, books and magazines in the 1980s and 1990s before his untimely death aged 45 in 1998.
Cover blurb:
Best known for his superb, highly distinctive illustrations for Doctor Who fanzines, magazines and books, Phil Bevan (1953-1998) created during his all-too-short life an incredible wealth of extraordinary artwork. Alongside the fantasy, science fiction and horror subjects in which he specialised, he also produced many cartoons for advertising and other purposes — testament to a keen sense of humour.
Compiled by noted researcher Stephen James Walker with the full co-operation of the artist's estate, The Art of Phil Bevan is the definitive biography of and tribute to this incredible talent. Presented within are hundreds of high-quality reproductions of his full colour and black-and-white artwork — including for the first time a comprehensive collection of his Doctor Who output and a generous sampling of his other work, much of it previously unpublished.
The Art of Phil Bevan is an essential addition to the bookshelves of all Doctor Who fans and anyone with a taste for brilliant genre artwork.