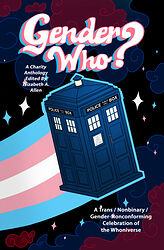 Description: Unofficial charity anthology of Doctor Who short stories, essays and art. Was only available for a one-month period as a print-on-demand title from Lulu.
Cover blurb:
Climb aboard the TARDIS for a multimedia adventure! Welcome to Gender Who?, an unlicensed charity anthology of fan creations exploring trans, nonbinary, and gender-nonconforming characters, themes, and experiences in the worlds of Doctor Who.
Travel to other worlds to explore their fashions, their genders, and what these say about our own experiences. Follow the Corsair, the Master, and the Timeless Child as they shift identities, genders, and races, always seeking to define themselves on their own terms. Join companions past, present, and future as the Doctor expands their definitions of gender and helps them find others like them. Watch various Doctor/Master pairs to learn what stays the same, even as genders may change. Through critical essays, fiction, and visual art, Gender Who? will make you smile, think, and celebrate the gender-bending wonders of the Whoniverse.