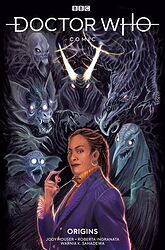 Description: Graphic novel collection of the 2022 Doctor Who: Origins comic mini-series, telling the origin story of the Fugitive Doctor, played on-screen by Jo Martin.
Cover blurb:
"5 out of 5! A brilliant Doctor Who story ... epically illustrated. You can't ask for better as a Doctor Who fan."
Kabooooom
The Doctor has had many lives... some it seems she doesn't even remember. This is the story of one, known as the Fugitive Doctor!
Eisner-nominated writer Jody Houser (Supergirl, Stranger Things) and fan-favorite artist Roberta Ingranata (Witchblade) return for another spectacular time-traveling adventure which deepens the lore of the Doctor Who universe.
The clandestine Time Lord organization called Division has sent the Doctor to eliminate a threat to Gallifrey. Joined by her new partner, Taslo, they soon discover something is amiss. What secret are the Time Lord hiding? And how much danger does it put them in? Discover exactly why the Doctor became hunted by Division and branded a fugitive...
"An essential purchase."
BLOGTOR WHO
"This delivers on all fronts... Titan's Doctor Who comics never fail to impress."
DC COMICS NEWS

Collects Doctor Who: Origins #1-4