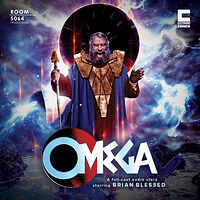 Description: Full cast audio adaptation of the spin-off Omega comic series (a.k.a. Omega: Vengeance) featuring the Time Lord character of the same name. Not to be confused with the 2003 Omega audio drama from Big Finish.
Cover blurb:
The people of the planet Minyos are in revolt against their alien gods. This chaos is being stoked by the rogue god Omega, who longs to free himself from his black hole prison and wreak revenge.
But brave Princess Malika, last of the Minyan royal family, is determined to fight back.

BONUS AUDIO MATERIAL
Interview with Brian Blessed (10 minutes)
Exclusive commentary: Brian Blessed on the Doctor Who story Mindwarp (99 minutes)