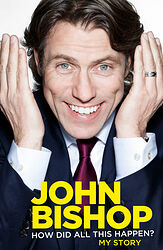 Edition:
UK (hardback)
Released:
October 2013

Publisher:
HarperCollins
ISBN:
978-0-00-743612-5
Format:
hardback
Owned:
Buy:
Cover blurb:
'Most mid-life crises result in people getting a sports car, a tattoo or a new young girlfriend — mine resulted in me telling my boss to stick his job up his arse.'

Inside cover flaps read as follows:
John Bishop quit his day job to become a full-time comedian just before he turned 40, having never considered entering show-business in his life. Told he was too old, too Scouse and he didn't look 'funny enough' to be a success, today he's one of Britain's biggest names in comedy and TV. With multiple awards and arena tours behind him, John often returns home to his wife of 20 years and his three teenage sons, and asks the question, 'So how did all this happen?'
In this, his hilarious and heartfelt autobiography, John tells of how he came to live the dream he never knew he had. He takes us through his childhood growing up on various council estates to the wanderlust that led him to travel across America in a sports car with only a shoe for company, and to ride home from Australia on a bicycle. We learn of his early career playing semi-professional football before getting himself a secure job as a sales rep. And that could have been that for John: a comfortable life with his family, with middle age approaching ... until the breakdown of his marriage led him to inadvertently find a love of performing comedy that would soon come to define him.
Covering the trials and tribulations of marriage and fatherhood when your kids think you're a knob, his love of Liverpool FC and how he went from being on-stage in front of six people and a chicken impersonator to getting his big TV break at the age of 42, John's story is proof that it's never too late to chase your dreams.

JOHN BISHOP was born in Liverpool, and grew up in Winsford and Runcorn, Cheshire.
In 2006, approaching his 40th birthday, John left his job to pursue a career in stand-up comedy. Within three years he was playing to sell-out arenas and had released the fastest-selling debut DVD in history. Now a household name and one of the biggest stars in comedy, John raised over £4 million for Sport Relief when he cycled, rowed and ran from Paris to London in 2012.
John lives with his wife and three sons in Cheshire, and his hobbies include his dog Bilko and supporting Liverpool, but not always in that order.