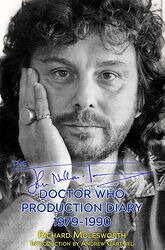 Note: Two slightly different editions are available — one direct from Telos, with the title on the cover embossed with foil, and a print-on-demand version from Amazon with no foil embossing. The ISBN of both editions is the same.
The original printing had a typo on the back cover ("the book tell" instead of "the book tells") and the Amazon review quotes were not present. These were amended after the first printing, along with some typo and factual corrections to the contents within.
Cover blurb:
In this fascinating account of one of Doctor Who's most turbulent periods, noted researcher Richard Molesworth presents an unprecedentedly detailed record of producer John Nathan-Turner's day-to-day activities on the show.
Drawing on unique archive documents, the book tells the full story of how one of the most divisive figures in Doctor Who's history steered it through the entire decade of the 1980s, revealing the key decisions that shaped its development and affording an invaluable insight into how the production office responded to the many controversies that dogged it during that period.
An unmissable treat for all fans of classic Doctor Who!
'Just excellent in every way. Beautifully researched, a wealth of information. Charting the highs and at times very lows of 1980s Doctor Who.' 'Russ', Amazon Review
'Compellingly written, a potentially dry subject becomes a fascinating insight into the changing television production methods employed by the BBC in the 1980s and into the complex — and ultimately tragic — life of BBC staff producer John Nathan-Turner.' 'Eddie', Amazon Review