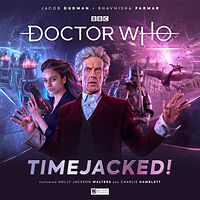 Note: Although not mentioned on the front or back cover, the spine of the CD case identifies this as "The Twelfth Doctor Chronicles 2", hence why it is listed with the Doctor Chronicles audios.
Cover blurb:
The Doctor's been timejacked!
Rookie Time Agent Keira Sanstrom needs the Doctor's help, and she's prepared to go to extreme measures to get it. Unwillingly whisked away from St. Luke's University, the Doctor quickly discovers that being forced off Earth is only the start of his problems...

FLIGHT TO CALANDRA BY MATT FITTON
SPLIT SECOND BY LOU MORGAN
THE WEIGHT OF HISTORY BY LOU MORGAN