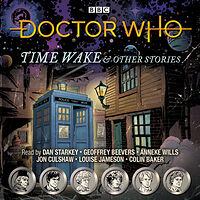 Cover blurb:
Fabulous tales of adventure from the vintage pages of Doctor Who Annual, brought to life by a host of familiar voices
In The Sons of the Crab the First Doctor finds himself a prisoner on a nightmarish world in the Crab Nebula. The Second Doctor is faced with a dilemma posed by the bird-like Arcturans in Only A Matter of Time, and in War in the Abyss the Third Doctor goes in search of Jo Grant's missing uncle.
The Fourth Doctor and Leela try to help the victims of Famine on Planet X, whilst the Fifth Doctor, Tegan and Nyssa find themselves on a Night Flight to Nowhere — courtesy of the Master! In Time Wake the Sixth Doctor and Peri search for the entity behind a dangerous temporal corridor in London.
Two short additional features ponder the Secrets of the TARDIS and examine the conundrum that is One Doctor - Five Men.
Dan Starkey, Geoffrey Beevers, Anneke Wills, Jon Culshaw, Louise Jameson and Colin Baker are our guides through these weird and wacky stories from Doctor Who Annual.