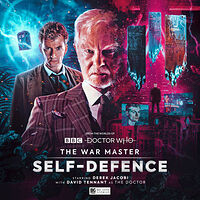 Cover blurb:
When the Master finds himself trapped in the Forest of Penitence, it kicks off a chain of events that will force him to revisit his past misdeeds.
From colony worlds ruled through fear to pastoral planets fleeing the Time War, the Master has spread his influence far and wide. His terrible reputation precedes him across the universe... and now he must be made to pay the price.
The Master's only hope of salvation lies with the Doctor. But this Doctor already knows his enemy's fate.
THE FOREST OF PENITENCE BY LOU MORGAN
THE PLAYERS BY UNA McCORMACK
BOUNDARIES BY LIZBETH MYLES
THE LAST LINE BY LIZZIE HOPLEY