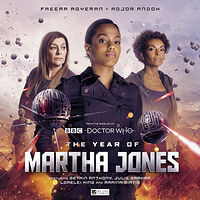 Description: CD box set of original audio dramas, featuring the Tenth Doctor's companion Martha Jones and set during the one-year gap between the TV episodes The Sound of Drums and Last of the Time Lords.
Cover blurb:
The Master has won. He has stolen humanity's future and imprisoned his nemesis, ruling the Earth with an army of deadly Toclafane.
But Martha Jones escaped, and now walks the Earth, telling stories of the Doctor. Above all else, humanity needs hope. And Martha will carry that hope across the world...
THE LAST DINER BY JAMES GOSS
SILVER MEDAL BY TIM FOLEY
DECEIVED BY MATT FITTON