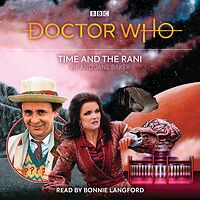 Note: Audio reading of Pip & Jane Baker's 1987 novelisation.
Cover blurb:
Bonnie Langford reads this thrilling novelisation of the debut TV adventure for the Seventh Doctor.
"This range of classic Target audiobooks continues to go from strength to strength..."
Doctor Who Magazine
Assailed by violent bolts of energy, the TARDIS is blasted off-course and forced to land on the barren planet of Lakertya. The turbulence triggers the Doctor's sixth regeneration — but that is the least of his worries.
Why has the Rani, that ruthless renegade Time Lady, brought the Doctor to Lakertya? What are the hideous Tetrap guards? Who are the eleven geniuses she has imprisoned in her stronghold, and what is the vital significance of Strange Matter?
Aided by the faithful Mel, the Doctor must do all he can to stop the Rani's diabolical scheme before it affects the whole of creation.
Bonnie Langford, who played Mel in the BBC TV series, reads Pip and Jane Baker's novelisation of their 1987 TV adventure.