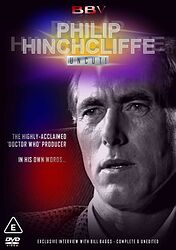 Description: DVD release of a 1990s interview with renowned ex-Doctor Who producer Philip Hinchcliffe, originally recorded for 30 Years of Time Travel and Beyond. Clips from this interview have also been re-used as special features on several BBC Doctor Who DVDs over the years — however, this is the first release of the full unedited 40-minute interview.
Cover blurb:
THE DOCTOR WHO PRODUCER FROM 1974 TO 1977
Philip Michael Hinchcliffe was born on 1st October 1944 & joined the BBC to produce Doctor Who in one of its most popular eras — Hinchcliffe has been regularly cited as the best ever producer of the series.
Together with script editor Robert Holmes, he ushered in a change in tone for the series, which became darker & more adult than previously, with a gothic atmosphere influenced by the horror films produced by Hammer Film Productions.
This DVD marks the first-time the exclusive interview with BBV has been released in full, completely uncut & unedited.

INCLUDES: NEW Introduction by Bill Baggs!
"Early Tom Baker was my childhood era of Doctor Who. So how fantastic to meet the man behind the stories that made their mark on me. He didn't disappoint."
- Bill Baggs