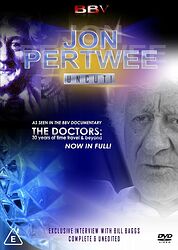 Description: DVD release of a 1990s interview with the Third Doctor himself, Jon Pertwee, originally recorded for 30 Years of Time Travel and Beyond. Clips from this interview have also been re-used as special features on several BBC Doctor Who DVDs over the years — however, this is the first release of the full unedited 75-minute interview.
Cover blurb:
IN LOVING MEMORY OF THE 3rd DOCTOR
1919 - 1996

Filmed in the '90s at Madame Tussauds, London.
Born John Devon Roland 'Jon' Pertwee & originally serving in the Royal Navy & Naval Intelligence Division during WW2, he became famous as the 3rd incarnation of the Doctor in the legendary science-fiction TV series Doctor Who between 1970 & 1974.
Towards the end of his life he maintained a close association with Doctor Who by appearing at many fan conventions related to the series & giving interviews.

"Jon Pertwee was someone who didn't suffer fools... fortunately he liked me, the benefit of seeing him as the gentleman he was."
- Bill Baggs

BONUS: NEW Introduction by Bill Baggs!