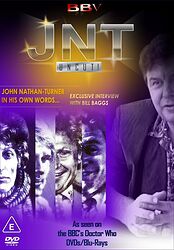 Description: DVD release of a 1990s interview with former Doctor Who producer John Nathan-Turner, originally recorded for 30 Years of Time Travel and Beyond (with clips from it also being re-used as special features on several BBC DVDs such as The Leisure Hive, The Trial of a Time Lord and Time and the Rani). However this is the first release of the full unedited 104-minute interview.
Cover blurb:
FULL UNCUT INTERVIEW WITH THE BELOVED TV-PRODUCER
IN MEMORY OF
JOHN NATHAN-TURNER
(1947-2002)

Born John Turner, originally a floor-assistant working with both Patrick Troughton and Jon Pertwee, he became the 9th producer of the long-running BBC science fiction series Doctor Who.
He was also the final producer of the series' first run on television (from 1980 with Tom Baker until it was cancelled in 1989). He finished the role having become the longest-serving Doctor Who producer & cast Peter Davison, Colin Baker & Sylvester McCoy as the 5th, 6th & 7th Doctors, respectively.
"I have had the privilege & pleasure of working with many DOCTOR WHO luminaries over the years,
but JNT was by far the most intriguing..."
— BILL BAGGS

SPECIAL FEATURES: BBV Trailers — P.R.O.B.E. Case Files; The Stranger series; Audio Adventures in Time & Space