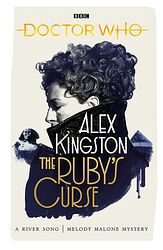 By:
Alex Kingston
Released:
20 May 2021

Publisher:
BBC Books
ISBN:
978-1-78594-713-1
Format:
hardback
Owned:
Buy:

New:

£16.99

£12.69 Save 25%
Note: Original novel featuring both River Song and Melody Malone, the latter being River's fictional detective alter-ego as featured in the Doctor Who TV episode Daleks in Manhattan and the previous audio release The Angel's Kiss. Also available as an audio reading.
Cover blurb:
She's got ice in her heart and a kiss on her lips...
1939, New York. Private Eye, Melody Malone, is hired to find a stolen ruby, the Eye of Horus. The ruby might hold the secret to the location of Cleopatra's tomb - but everyone who comes into contact with it dies. Can Melody escape the ruby's curse?
1939, New York. River Song, author of the Melody Malone Mysteries, is forced to find a reality-altering weapon, the Eye of Horus - but everyone who comes into contact with it dies. River doesn't believe in curses - but is she wrong?
From the top-security confines of Stormcage to the barbarism of first-century Egypt, River battles to find the Eye of Horus before its powers are used to transform the universe. To succeed, she must team up with a most unlikely ally - her own fictional alter ego, Melody. And together they must solve another mystery: Is fiction changing into fact - or is fact changing into fiction?