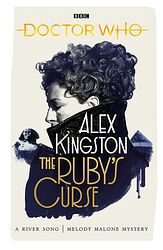 Edition:
UK (hardback)
Released:
May 2021

Publisher:
BBC Books
ISBN:
978-1-78594-713-1
Format:
hardback
Owned:
Buy:

| | | |
| --- | --- | --- |
| | | (Unable to fetch price) |
Note: A variant signed edition is available at Waterstones, which instead displays the ISBN 2-928377-056421 on the back cover. However, the new ISBN is just a sticker (and indeed, is not even a valid ISBN) — the copyright page still has the original ISBN and the book as a whole is otherwise identical (apart from the title page containing a bookplate signed by Alex Kingston), hence not listed as a separate edition here.
Cover blurb:
Among the grave goods was found a ruby of great size, referred to as 'the Eye of Horus'.
No sooner was this jewel plucked from its setting than there came a cry from the entrance to the tomb...
Inside cover flaps read as follows:
1939, New York. Private Eye, Melody Malone, is hired to find a stolen ruby, the Eye of Horus. The ruby might hold the secret to the location of Cleopatra's tomb — but everyone who comes into contact with it dies. Can Melody escape the ruby's curse?
1939, New York. River Song, author of the Melody Malone Mysteries, is forced to find a reality-altering weapon, the Eye of Horus — but everyone who comes into contact with it dies. River doesn't believe in curses — but is she wrong?
From the top-security confines of Stormcage to the barbarism of first-century Egypt, River battles to find the Eye of Horus before its powers are used to transform the universe. To succeed, she must team up with a most unlikely ally — her own fictional alter ego, Melody. And together they must solve another mystery: Is fiction changing into fact — or is fact changing into fiction?

ALEX KINGSTON is TV royalty, celebrating 40 years in the business. From her debut in Grange Hill in 1980 to the title role (and BAFTA nomination) in The Fortunes and Misfortunes of Moll Flanders, starring in over 150 ER episodes and becoming part of Doctor Who folklore as River Song. Her appearance in Doctor Who was meant to be a one-off but she became a regular and remains a fan favourite.
JACQUELINE RAYNER is the author of over forty books and audio plays, including number one bestseller The Stone Rose, the highest-selling Doctor Who novel of all time. She lives in Essex with her husband and twin sons.