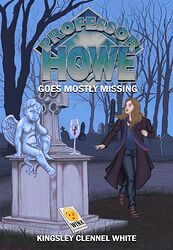 Edition:
UK (paperback)
Released:
June 2021

Publisher:
Long Scarf Publications
ISBN:
Unknown
Format:
paperback
Owned:
Buy:
Note: Purchasers also receive a free bonus book — called Wink, purportedly by Professor Howe himself, which is referenced in the plot of this novel and is also depicted on the cover. Wink is not available to purchase separately (for obvious reasons), hence is not listed separately on this website.
Cover blurb:
Emily Espen, Urban Explorer, dreams of social media followers in the thousands. However, her plans for fame are up in the air when an expedition to a graveyard gives her actual followers of her own.
Her best friend and brother have fallen victim to the Peeing Paragons and been condemned to the past. Now, alone and terrified, she faces a similar fate. All she has for company is a bizarre best-selling book written by a mysterious stranger called PROFESSOR HOWE.
What secrets does the strange, emoji-based, book hold? Can Emily rescue her friends from the Peeing Paragons? And what the hell has happened to Professor Howe?? And what the hell has happened to Professor Howe?